I've really wanted to visit a big country park about eight miles from our town for the last week or so, while we've had good weather. We had planned to yesterday, but Andy's (the boyfriend behind the blog pictures!) Dad and brother ended up coming for a visit, so we went to grab a bite to eat and then had a walk around the city and made the most of the sunshine. We went to take my pictures in a little green park area behind our apartment, but by the time we started taking some decent pictures it was getting dark. We're going to try and get to Bradgate Park next week - there are wild deer wandering around and lots of greenery to get lost in, just how I like it!
This was our first outing with the new DSLR and I think it went reasonably well. We're still not entirely sure how to work all the features and buttons, but I'm hopeful that we'll get better with it as we use it more.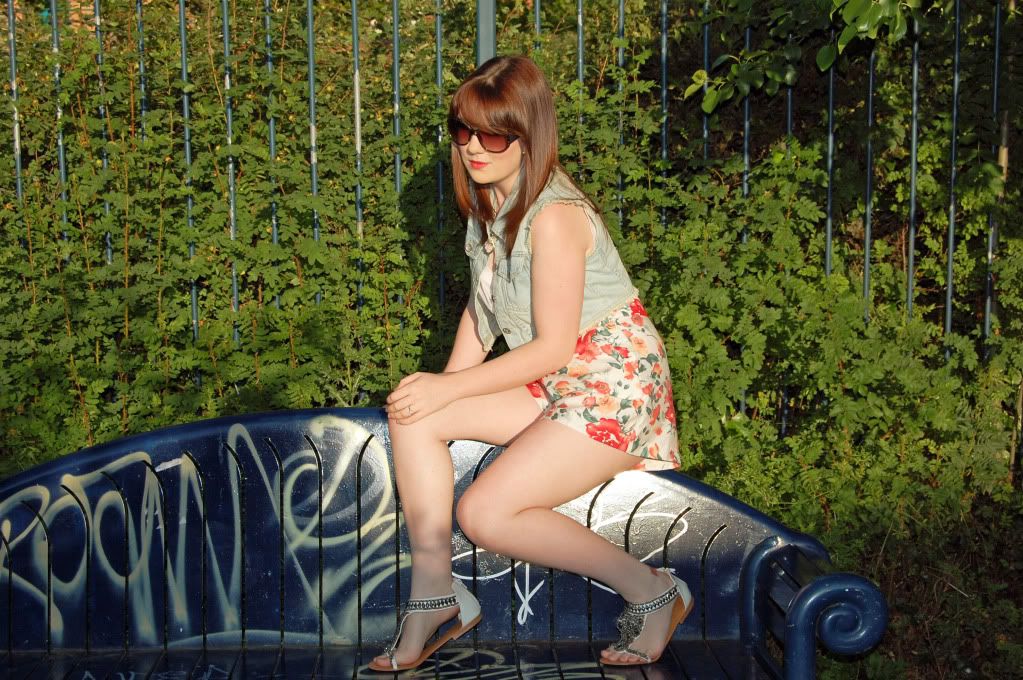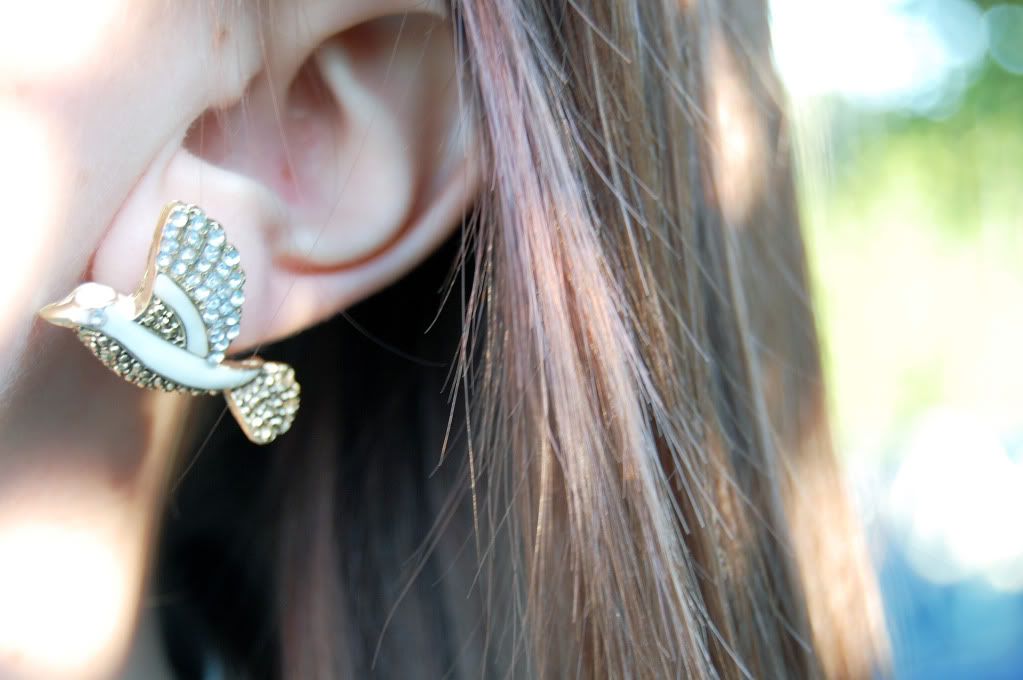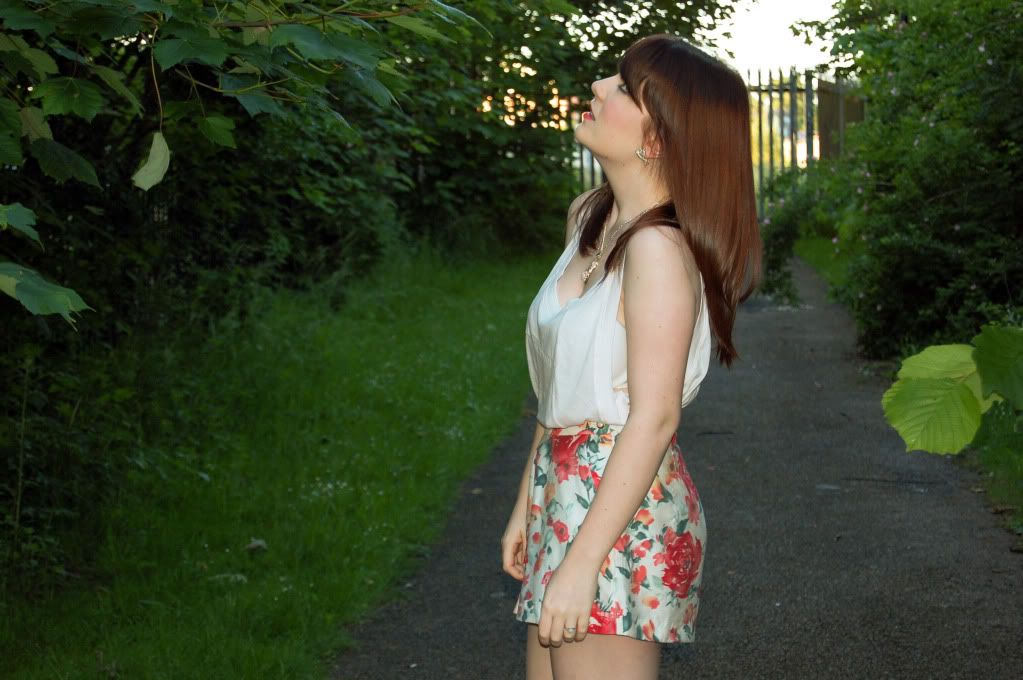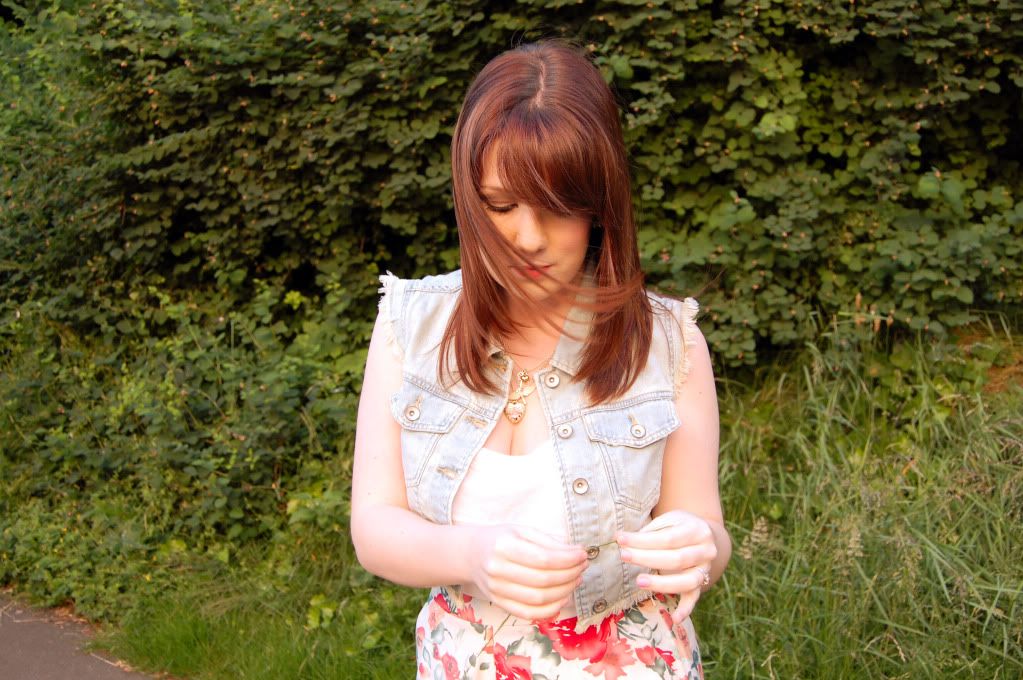 I got these shorts from Topshop last month and this is the first time I've had them on. I was inspired by somebody on Chictopia to give floral shorts a try and I have to say that I am fully on board. They're as cute as a skirt, but you can move around freely without the fear of flashing - always a bonus in my opinion! The little demin vest was something I actually bought while we were out, and I liked it so much that I put it on over my outfit straight away.I've been hunting around for one for ages and I'm already picturing it over little floral tea dresses and with khaki shorts. It's one of those versatile things that you can put with anything. My little bird earrings were another spur of the moment purchase but they were too cute to resist! I love bird inspired anything and everything - clothes, shoes, jewellery, you name it.
On another note, we went to see Killers yesterday which is a really good, lighthearted movie with a funny plot. I recommend it if you're looking for a few laughs and nothing too serious! Now I am off to watch yet another World Cup match (sense my enthusiasm...) and be lazy.
Top: Topshop, Denim Vest: Topshop, Floral Shorts: Topshop, Earrings: Topshop, Sandals: Miss Selfridge