Hello again! Remember me? I used to post pictures here fairly often, but it's been a while. So the reason for this is that I have had some weird illness for the past few weeks now that the doctors couldn't really explain to me. The glands in one side of my neck swelled up to the point that I resembled some sort of rodent storing food reserves or something and I kind of assumed you guys wouldn't want to see pictures of that. Hence the lack of posting! However, they have shrank back down to a respectable size now, so my posts are going to be much more regular.
Aside from lying in bed with all my favourite magazines and packets of digestive biscuits, I've been sitting my exams lately - always a whale of a time. I finished school last week and am a bit giddy at the thought of the three month stretch of long, lazy days and warm weather that is ahead of me. If you're from England, like me, you'll know that the part about the weather is both extremely improbable and a little deluded, but I can hope!
Here are a few pictures from Friday, which was probably the first day I was properly out and about since I got sick. We didn't do anything particularly special, just grabbed some lunch and wandered around the stores. It was pretty sunny, so everybody was out and it was very crowded. The flowery dress is something which my lovely father bought me when he visited a few weeks ago and it's pretty much my ideal summer dress - pretty and floral with a cute bra-style top.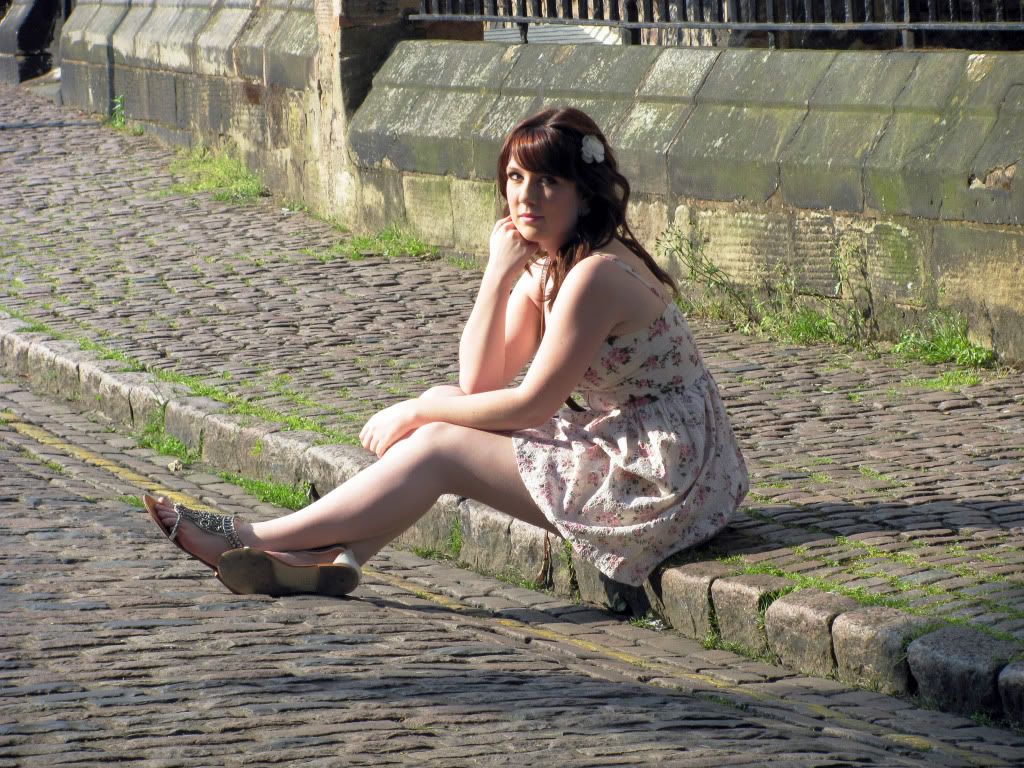 Dress: Topshop, Sandals: Miss Selfridge
Yesterday was a little more eventful. I woke up and decided I wanted to do something out of town, so we hopped on a train to Birmingham and ended up at the aquarium there. I love aquariums and could happily spend all day looking at all the weird sea life and pretty fish. I've visited aquariums in Baltimore and Barcelona and, while the Birmingham one wasn't quite on the same level, it was still pretty nifty. Sadly the low lights and prohibition of flash use meant that all of my pictures sucked. However, I did get my boyfriend to snap a few outfit shots before we got too busy, so here they are.
Romper: Primark, Sandals: Miss Selfridge, Purse: River Island
I was pleased to find this little brown playsuit in Primark for just £13, but my excitement was somewhat lessened when I tried it on and the wrap-over area on the chest gaped open far too wide. That's the reason for the neutral vest underneath in the pictures, which I feel kind of ruins the look a little. I intend to sew the wrap-over together so that I'm not walking around indecently, but my lack of mad sewing skills means that I might have to wait until I next see one of my Grandmothers. The second picture was taken under a sort of subway in Birmingham, and there were a ton of those pretty coloured lights which were rather snazzy!
More to come soon, now that I'm feeling better. Promise! xo